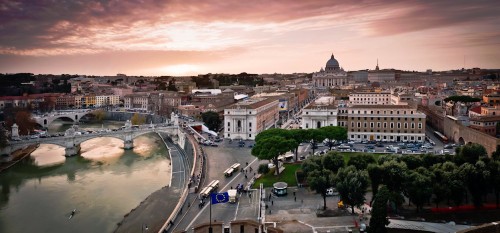 Though most people would name the Louvre as the world's most extensive museum, the largest is actually the complex of galleries, chapels, and palaces in Rome's Vatican City. In addition to the Sistine Chapel with its incomparable Michelangelo ceiling, there are 1,400 rooms throughout the Vatican City complex of museums filled with pieces dating back more than 3000 years. Rich collections of artifacts from the Egyptian and Etruscan civilizations are housed here, along with antiquities from Greece and Rome, including vases, tapestries, miniature mosaics, and a particularly noteworthy collection of ancient maps. The 18-room Pinacoteca (picture gallery) is the most impressive in Rome, with major works by Raphael, da Vinci, Caravaggio, and Bellini. This jigsaw puzzle features the Vatican City skyline.

Jigsaw puzzle subject image credit: Special thanks to Benson Kua for making the photograph used for this jigsaw puzzle available through the Creative Commons Attribution ShareALike license. Visit Benson Kua's Flickr photostream.

See all jigsaw puzzles based on Benson Kua's photographs.
Category: Skylines