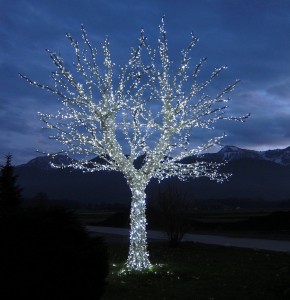 Stripped of its leaves and dead for winter but adorned with lights, a tree celebrates life.  As the day wanes in the background of the jigsaw puzzle, the tree knows that the shortest day of the year approaches and prepares to celebrate the many winter light festivals. The tree is not concerned if the festival is called Christmas or Yule or Hanukkah, the tree only wants to sing a winter paean to light and life.  It gives one pause, has the tree manifested these lights on its own to mitigate the pain it felt as its leaves deserted it, or did a kind passing soul decorate the tree to allow it have the privilege usually granted only to the evergreens of symbolizing life in the dead of winter.

Jigsaw puzzle subject image credit: Special thanks to Josef Türk Jun for making the photograph used for this jigsaw puzzle available through the Creative Commons Attribution ShareALike license. Visit Josef Türk Jun's Flickr photostream.

See all jigsaw puzzles based on Josef Türk Jun's photographs.
Category: Christmas