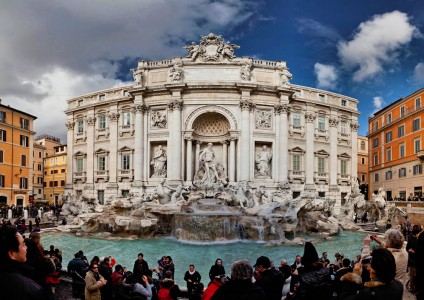 The Trevi Fountain is among the most popular tourist attractions in Rome because of its excellent artisanship and its sheer size, as can be seen in this jigsaw puzzle. This is a huge and impressive sculpture reflecting the revolutionary techniques that made Rome the center of the Baroque period. Not only is the statuary replete with dramatic flowing lines and a composition of rearing horses and singing angels, but it comes alive with the ceaseless and flow of clear turquoise water that circulates from the large pool at its base.
An interesting aspect of  Trevi Fountain is the way it leaps out at visitors unexpectedly as they navigate the narrow streets of Rome's ancient city center. It would be impossible for anyone not to stop in their tracks upon coming face to face with this larger than life depiction of Neptune and his attendants.

Jigsaw puzzle subject image credit: Special thanks to Benson Kua for making the photograph used for this jigsaw puzzle available through the Creative Commons Attribution ShareALike license. Visit Benson Kua's Flickr photostream.

See all jigsaw puzzles based on Benson Kua's photographs.
Category: Sculpture