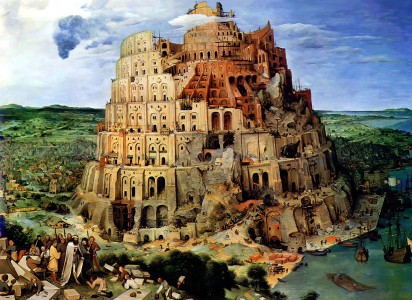 This painting of the Tower of Babel was created by Pieter Bruegel the Elder in 1563. The Tower of Babel was a popular subject among artists in the 1500s, and Bruegel's depiction is the most well known. Bruegel actually painted two different Tower of Babel paintings that are still in existence, the one shown here being the larger one. The painting is approximately 5 feet by 4 feet and is very detailed. Today the painting hangs in the Kunsthistorisches Museum in Vienna, Austria.
The Tower of Babel, as told by chapter 11 of the Bible's Book of Genesis, was built by mankind in the generations following Noah's flood. There was only one language at the time and the plan was to build a tower into the heavens that would keep mankind united. But God was not pleased by the tower and caused mankind to speak in different languages. The ensuing confusion brought work on the tower to a halt and the population scattered. The city was then named Babel.
The image used for this jigsaw puzzle is in the public domain.
Category: Bible, Classic Paintings