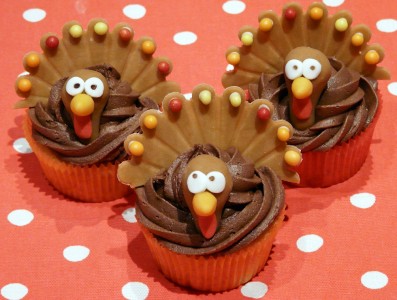 After the parades are over and the turkey is stowed away safely in the refrigerator, what better way to spend the remainder of Thanksgiving than solving a jigsaw puzzle of three turkey cupcakes?  These cupcakes are in seasonally appropriate orange cups.  The frosting has been perfectly piped in place using a star tip.  Each turkey features a candy tail and head.  Their cute eyes seem to dare you to take the first bite.  Fortunately, these cupcakes are not going to add any more calories to your turkey day since they are only a jigsaw puzzle, unless you decide after staring at them to bake some up for the family.

Jigsaw puzzle subject image credit: Special thanks to Sugar Daze for making the photograph used for this jigsaw puzzle available through the Creative Commons Attribution NoDerivs license. Visit Sugar Daze's Flickr photostream.

See all jigsaw puzzles based on Sugar Daze's photographs.
Category: Food, Thanksgiving