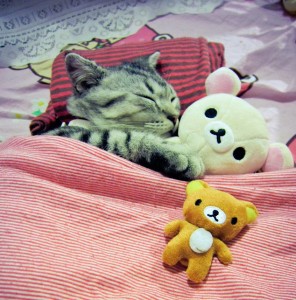 For many generations, one of the most offered pieces of advice for couples wanting to start a family has been "get a puppy." However, because many people feel that a cat is a much more rewarding pet than a dog, every once in a while someone has said, "Get a kitten." Kittens are known for sleeping in unusual ways and in remarkable places. Very like a child in behavior and attitude throughout the lifespan, a cat will often sleep snugly under a blanket with a favored object and even a pillow. A cat is all about love, comfort and sleep.

Jigsaw puzzle subject image credit: Special thanks to Jase Lam for making the photograph used for this jigsaw puzzle available through the Creative Commons Attribution ShareALike license. Visit Jase Lam's Flickr photostream.

See all jigsaw puzzles based on Jase Lam's photographs.
Category: Cats