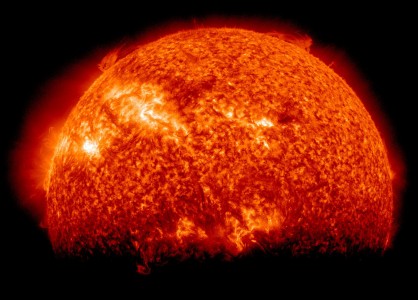 NASA's SDO (Solar Dynamics Observatory) satellite was launched in February, 2010. It is specifically designed to study the sun and is constantly collecting a large number of various solar measurements. The collected information is providing scientists with new insights into the workings of the sun, which still holds many unsolved mysteries for science. More information on the SDO project can be found at NASA's SDO page.
The image of the sun shown in this online jigsaw puzzle was taken by NASA's SDO satellite on March 29, 2011. SDO was positioned behind the earth at the time the photo was taken and as a result, the lower portion of the sun is eclipsed by the earth in the photo.

Jigsaw puzzle subject image credit: Special thanks to NASA Goddard Space Flight Center for making the photograph used for this jigsaw puzzle available through the Creative Commons Attribution license. Visit NASA Goddard Space Flight Center's Flickr photostream.

See all jigsaw puzzles based on NASA Goddard Space Flight Center's photographs.
Category: Space