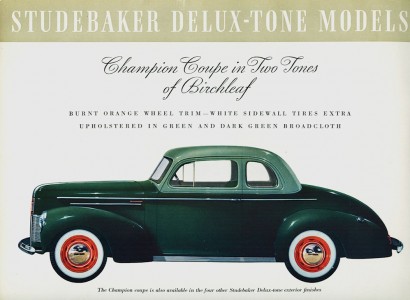 What Studebaker's top executives Harold Vance and Paul Hoffman started—bringing the besieged Indiana automaker back from the depths of the Depression and its early-1930s bankruptcy—the 1940 Champion finished with a flourish. The success of the Champion depicted in this jigsaw puzzle helped pace a successful 1940 model year that put Studebaker back into the forefront of American automobile making.
Vance and Hoffman wanted a passenger car in the low-price field that would be reliable, attractive to see, and attractive to buy, gambling on a market they formerly misjudged. This time, they surveyed prospective buyers to learn what they wanted in such a car. They discovered those buyers wanted a full-size, six cylinder car lighter in weight and comfortable enough to drive, ride, and buy.
Their designer Roy Cole put together a team that came up with an innovative flathead six engine that weighed less than the Big Three's sixes at 455 pounds (including its transmission), and powered a car with lighter chassis and suspension than most in its class. It went under a body showing greater cosmetic appeal, designed by the legendary Raymond Loewy's product division chief Clare Hodgman. The body eliminated running boards, concealed door and trunk hinges, and tucked its heating/defrosting system under the seat to preserve precious legroom.
A promising hit in its 1939 debut, the Champion became an overwhelming one in its 1940 versions. Dealers reportedly crowed about heavy showroom visiting. The 1940 Champion was offered with such body variations an opera coupe with small, folding rear "opera" seats or a slumber coupe with a rear seat folding down into a kind of bed; an ambulance coupe with a folding back seat and a stretcher. In addition, a coupe delivery model with cargo box sliding in and out of the trunk; and, several sedan delivery models, in addition to the conventional two- and four-door passenger models. The 1940 Champion sold double its short 1939 volume while showing record gasoline mileage for its price class. It was so successful, in fact, that the car was named the 1940 Indianapolis 500's pace car, a first for a closed-body car.
This jigsaw puzzle shows a two-tone birch leaf green 1940 Champion coupe, with orange wheel trim and whitewall tires. In addition, this puzzle will make a great way to re-introduce you to the car that secured Studebaker's resurrection after an arduous return from disaster.

Jigsaw puzzle subject image credit: Special thanks to Alden Jewell for making the photograph used for this jigsaw puzzle available through the Creative Commons Attribution license. Visit Alden Jewell's Flickr photostream.

See all jigsaw puzzles based on Alden Jewell's photographs.
Category: Cars