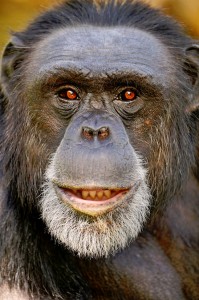 The orange-eyed male chimpanzee in this jigsaw puzzle lives at the Aalborg Zoo in Denmark. Like apes and humans, chimpanzees belong to the primate order. Covered with black body hair, these social animals are known for their intelligence, expressive faces and vast communication skills. Their natural habitat is varied, from tropical rain forests to grasslands and swamp forests. A chimpanzee in captivity lives as long as 60 years. As omnivores, chimpanzees survive on both vegetation and meat. Grooming plays a big part of their daily life, as the activity is used to release tension, maintain group harmony and personal hygiene.

Jigsaw puzzle subject image credit: Special thanks to Tambako for making the photograph used for this jigsaw puzzle available through the Creative Commons Attribution license. Visit Tambako's Flickr photostream.

See all jigsaw puzzles based on Tambako's photographs.
Category: Primates