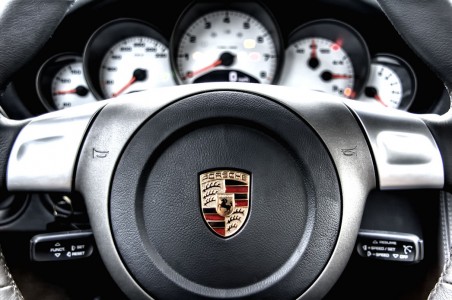 Driving a Porsche 911 is a fantasy – a fantasy held by millions of people, and nothing conveys that fantasy more than this jigsaw puzzle of the cockpit. The Porsche symbol is front and center, the focus of the puzzle, and a standout with its golden color against the backdrop of black, silver and chrome.  The white gauges in the background are set to zero, but it is easy to imagine hands at the wheel, smelling the leather, the wheel turning, the gauges shooting to 120 miles per hour, and flying down the Autobahn with the cockpit of the Porsche 911 barely a breath away.

Jigsaw puzzle subject image credit: Special thanks to Maschinenraum for making the photograph used for this jigsaw puzzle available through the Creative Commons Attribution NoDerivs license. Visit Maschinenraum's Flickr photostream.

See all jigsaw puzzles based on Maschinenraum's photographs.
Category: Cars