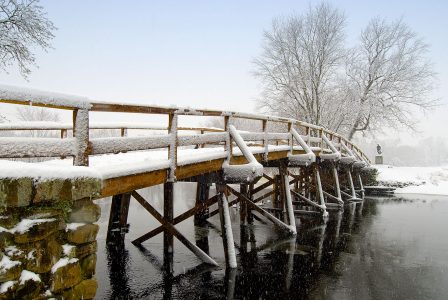 The Old North Bridge in Concord, Massachusetts. The bridge is a replica of the original bridge which was at the center of the first battle of the Revolutionary War. American Minutemen militia and British infantry fired at each other over the bridge from opposite banks of the Concord River. The British were outnumbered in this battle and retreated. Ralph Waldo Emerson later penned of that moment: "The shot heard around the world".
The bridge and surrounding area is now part of Minute Man National Historical Park. Minute Man statue stands near one end of the bridge.
Jigsaw puzzle subject image credit: Christian Delbert/Shutterstock.com

See all jigsaw puzzles based on Christian Delbert's photographs.
Category: Bridges