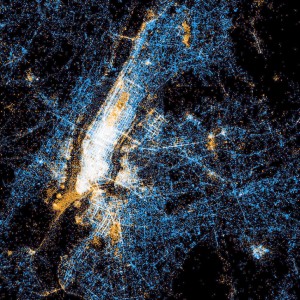 This online jigsaw puzzles features a map of New York City created solely by plotting points where people have used Twitter or Flickr over a particular period of time. The blue dots represent locations where people sent tweets on Twitter. The orange dots represent locations here people took photographs that were subsequently uploaded to Flickr. The white dots represent locations where both tweets were sent and Flickr photos were taken.
When all those points are displayed in aggregate you can clearly see the outline of Manhattan as well as its streets. One would hope all those dots along the streets represent people tweeting from the sidewalks, or while riding in a car, and not while driving! You can also identify tourist areas such as Central Park, the State of Liberty, and the Bronx Zoo shown predominately in orange representing the frequency of photos taken in those areas.

Jigsaw puzzle subject image credit: Special thanks to Eric Fischer for making the photograph used for this jigsaw puzzle available through the Creative Commons Attribution license. Visit Eric Fischer's Flickr photostream.

See all jigsaw puzzles based on Eric Fischer's photographs.
Category: Miscellaneous