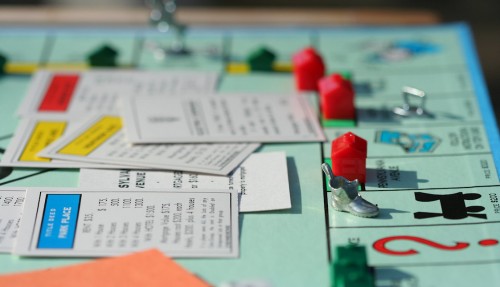 The world's most popular board game, Monopoly, was born at the height of the Great Depression. With houses, hotels, and colorful paper money, Monopoly was an affordable fantasy of wealth that lifted the country's spirits. It debuted in 1935 and sold over 20,000 sets in its first week.  Although people think of Monopoly's many special editions as a recent innovation, the first actually dates back to 1947, when Buckopoly was created for Ohio Buckeye fans. The Monopoly game featured in this online jigsaw puzzle is the traditional version of the game. As for the plump little banker who serves as Monopoly's mascot, he appeared in 1936 and received his official name, Rich Uncle Pennybags, in 1946.

Jigsaw puzzle subject image credit: Special thanks to John Morgan for making the photograph used for this jigsaw puzzle available through the Creative Commons Attribution license. Visit John Morgan's Flickr photostream.

See all jigsaw puzzles based on John Morgan's photographs.
Category: Amusement