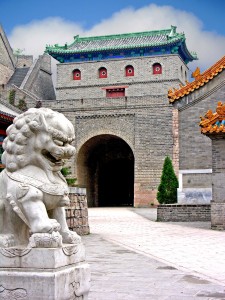 The construction of the Great Wall of China took centuries to build and spanned hundreds of miles.  One stretch of territory protected by the Great Wall is the Juyong Pass, a ten-mile valley that is around thirty miles north of capital city Beijing.  This pass, shown in this online jigsaw puzzle, represents a major point in the defensive formation, as it contained an archway through which persons could move from one side of the Great Wall to  the other.  Called the Cloud Platform, this thirty-foot tall tower allowed soldiers and peasants in the Yuan Dynasty to pass forth.  Lines from Buddhist scripture have been carved in six different languages into its marble side.

Jigsaw puzzle subject image credit: Special thanks to Dennis Jarvis for making the photograph used for this jigsaw puzzle available through the Creative Commons Attribution ShareALike license. Visit Dennis Jarvis's Flickr photostream.

See all jigsaw puzzles based on Dennis Jarvis's photographs.
Category: Other Structures