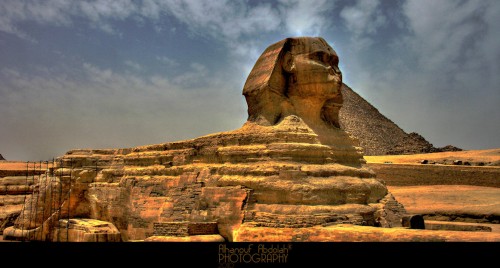 The Great Sphinx of Giza, featured in this jigsaw puzzle, is a giant monolithic statue near Cairo, Egypt. It stands nearly 70 feet high and measures well over 200 feet in length. The ancient Egyptians carved it out of a single limestone outcropping more than 4500 years ago. The statue depicts a reclining lion with a man's head and face.
There are many theories regarding the purpose behind the construction of the sphinx. Some hold that the Sphinx was involved with Sun worship in the Old Kingdom of Egypt. Later, the Sphinx was apparently associated with the worship of various Egyptian gods.
The Great Sphinx is an enduring symbol of ancient Egypt. This statue has seen every epoch of recorded Egyptian history and remains a prominent part of Egypt.

Jigsaw puzzle subject image credit: Special thanks to ALhanouf AL- abdollah for making the photograph used for this jigsaw puzzle available through the Creative Commons Attribution license. Visit ALhanouf AL- abdollah's Flickr photostream.

See all jigsaw puzzles based on ALhanouf AL- abdollah's photographs.
Category: Other Structures