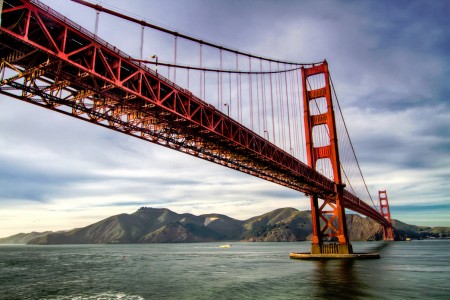 San Francisco's Golden Gate Bridge, featured in this jigsaw puzzle, is one of the most beautiful and well known bridges in the world. The bridge's name refers to the Golden Gate Strait, which the bridge crosses. It has two magnificent towers, extensive spanning cables. The orange vermilion paint used on the Golden Gate Bridge gives off a sensory beauty that blends wonderfully with the natural setting giving off a warm hue playing against the cool colors of the sea and sky. The orange color was actually chosen because of better visibility during fog, which often engulfs the bridge giving it almost an angelic look from above.

Jigsaw puzzle subject image credit: Special thanks to Agustin Rafael Reyes for making the photograph used for this jigsaw puzzle available through the Creative Commons Attribution license. Visit Agustin Rafael Reyes's Flickr photostream.

See all jigsaw puzzles based on Agustin Rafael Reyes's photographs.
Category: Bridges