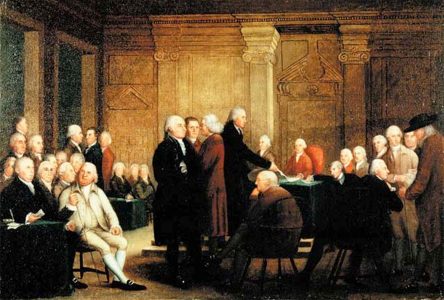 "Congress Voting Independence" is a painting of members of Congress voting approval of the final text of the U.S. Declaration of Independence at Independence Hall in Philadelphia, Pennsylvania on July 4, 1776. The painter was Robert Edge Pine who worked on the painting from 1784 until his death in 1788. The painting was not finished at the time of his death.
Among those depicted in the painting are Benjamin Franklin (seated in white), John Adams (standing next to Franklin in a dark suit), Thomas Jefferson (tall figure at the table), and John Hancock (seated behind the table in a red suit). Although Congress approved the text of the Declaration on July 4 it was not actually signed until nearly a month later on August 2.
The image used for this jigsaw puzzle is in the public domain.
Category: Classic Paintings, People