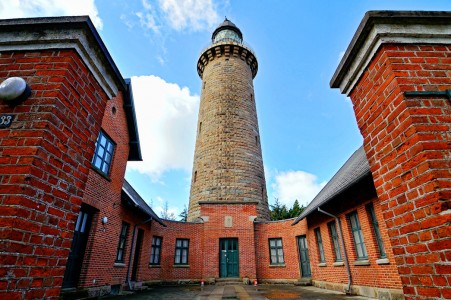 Standing tall and silhouetted against blue sky and fluffy white clouds this Danish lighthouse has served for many years to warn ships of the dangers of the rock shore with its rotating light.  The lighthouse stands tall above the red brick buildings with their green windows and doors.  In fact, it is taller than anything else around so that nothing is able to block its strong warning beacon.  This lighthouse and thousands others like it continue to warn sailors of the danger.  When night falls and the fog starts to roll in its light will cut through the darkness as it has for years, once again performing its lifesaving duty.

Jigsaw puzzle subject image credit: Special thanks to Tambako for making the photograph used for this jigsaw puzzle available through the Creative Commons Attribution NoDerivs license. Visit Tambako's Flickr photostream.

See all jigsaw puzzles based on Tambako's photographs.
Category: Lighthouses