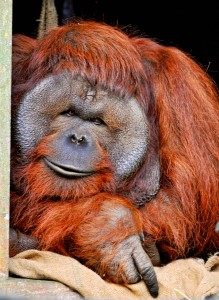 The origin of orangutans, such as the one featured in this jigsaw puzzle, is not generally agreed upon, and additional fossils have to be unearthed and studied to expand the knowledge of the evolutionary history of a creature that now faces extinction. Fossils found and dated at over a million years old point towards massive orangutans in Indochina.  Fossils from forty thousand years ago that were found in Borneo and Sumatra, evidence an animal that was thirty percent larger than the species of today. The word orangutan has it's derivation in the Indonesian and Malaysian languages meaning person (orang) and forest (hutan), which literally means just that- person of the forest.

Jigsaw puzzle subject image credit: Special thanks to Tambako for making the photograph used for this jigsaw puzzle available through the Creative Commons Attribution license. Visit Tambako's Flickr photostream.

See all jigsaw puzzles based on Tambako's photographs.
Category: Primates