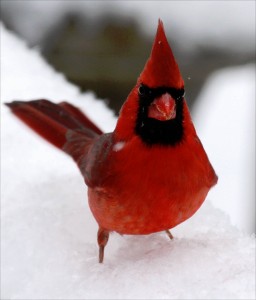 The beautiful scarlet cardinal is a robust little bird with a strong beak for breaking seeds.  They are found in the northern and southern Americas.  There is a distinctive difference in the male and female, where the male is a bright red, as shown in this jigsaw puzzle, and the female are brown with a little reddish tint.  Cardinals can usually be seen as a pair, male and female.    A generic name for them is Tropical Buntings although not all have tropical habitats.   Because of their rather large beaks, they also are considered Cardinal-Grosbeaks.  Because of their distinct color, the Cardinal is a favorite among bird watchers.

Jigsaw puzzle subject image credit: Special thanks to Dawn Huczek for making the photograph used for this jigsaw puzzle available through the Creative Commons Attribution license. Visit Dawn Huczek's Flickr photostream.

See all jigsaw puzzles based on Dawn Huczek's photographs.
Category: Birds