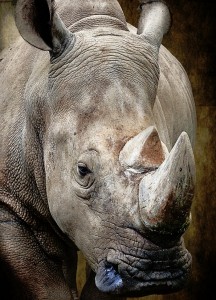 The rhinoceros is a fascinating animal that, unfortunately, is facing extinction. There are actually five main species of rhinoceros. These are the white rhinoceros, black rhinoceros, Indian rhinoceros, Javan Rhinoceros and Sumatran Rhinoceros. These animals live in Africa, India, Nepal and Indonesia. Rhinoceroses are large herbivores with near sighted vision. However, these animals can reach surprising speeds of up to thirty miles per hour.
Due to its large size, the rhinoceros does not have many natural enemies. However, it is an easy target for poachers. One reason poachers take the animal is because a rhinoceros' horn is believed by some to have healing properties, such as the ability to bring down fevers and stop convulsions. At least the rhino in this online jigsaw puzzle will not have to worry about that fate.

Jigsaw puzzle subject image credit: Special thanks to Schristia for making the photograph used for this jigsaw puzzle available through the Creative Commons Attribution license. Visit Schristia's Flickr photostream.

See all jigsaw puzzles based on Schristia's photographs.
Category: Other Animals