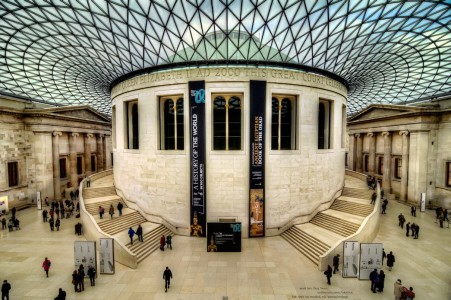 Established approximately two hundred and fifty years ago, the British museum holds one of the world's greatest collections of cultural and historical artifacts. Estimates number its collection at over seven million items. The museum is publicly funded, and therefore it does not charge an admission fee.
As a result of British rule over much of the world during its colonial phase, the British museum houses many antiquities from across the globe. Some of these, such as the Elgin marbles from Greece, are in dispute over who actually owns them. Most of the items, however, are not as controversial, and you can expect to see everything from mummies to a cartoon by Michelangelo.
The portion of the museum shown in this jigsaw puzzle is known as the Great Court and is a stunning two acres in size. Originally, the court was an open garden and later the space was used to house the museum's library. The grand structure enclosing the space today was completed in 2000 and dedicated by the Queen. The center structure encircled by stairs is the famous Reading Room.

Jigsaw puzzle subject image credit: Special thanks to Chris Robinson for making the photograph used for this jigsaw puzzle available through the Creative Commons Attribution license. Visit Chris Robinson's Flickr photostream.

See all jigsaw puzzles based on Chris Robinson's photographs.
Category: Buildings