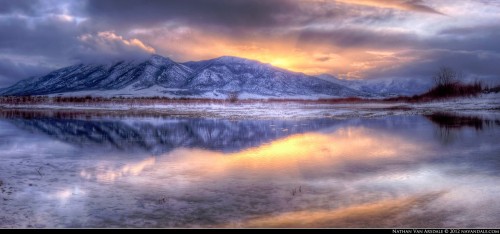 Description from the photographer:
A beautiful sunset at Bassett Lake, near Ely, NV on the Great Basin Highway.
I was returning from my older brother's wedding in Sun Valley, ID, where I enjoyed a weekend of great skiing, singing, and revelry. I didn't take my camera out all weekend, not even for the various parties. My brother and new sister-in-law hired a great photographer to handle all of that (hillarymaybery.com/)… so I got to take part in all the fun. Also, we were sacked in by snow and dense clouds, so there wasn't much landscape to see. However, as I drove south on Highway 93 the clouds gave way to clear sky, and the landscape came alive. It was turning into a magical day… one of those days where all of the ingredients for a beautiful sunset were coming together. I wanted to get to some sort of body of water though, so I started scanning the scenery. Clouds were gathering, and I could tell that I was eventually going to drive into a snowstorm. I just hoped that the storm would wait until after the sun went down.
As I approached Ely I nearly missed the sign for Bassett Lake. I turned on the muddy ranch road and felt grateful for my 4WD, because otherwise I would have surely gotten stuck. I made my way about 2 miles down the bumpy road before I saw something that looked promising. The mountains seemed to be cloud-factories, and the clouds were obscuring the sun… but I asked politely for them to reveal a little bit of glory as the sun continued to sink. Careful to obey no trespassing signs, I found this lovely location and set up my tripod. I didn't have to wait very long for the weather Gods to answer my request for glory. The sun hit its sweet spot and light burst forth from the clouds.
After the moment passed I stayed a bit to breath and reflect before walking back to my car. As soon as I got back to my car it started snowing, and didn't stop for the rest of my drive back to Vegas.
This is an HDR panorama created from 4-vertical HDR frames using Photoshop CS4. Each HDR frame was created from 3-RAW images using Photomatix Pro.
Prints available at my printshop.
To read more, and see how I make my images, visit my blog.

Jigsaw puzzle subject image credit: Special thanks to Nathan Van Arsdale for making the photograph used for this jigsaw puzzle available through the Creative Commons Attribution license. Visit Nathan Van Arsdale's Flickr photostream.

See all jigsaw puzzles based on Nathan Van Arsdale's photographs.
Category: Lakes