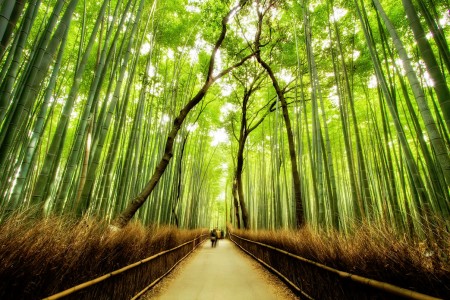 The bamboo forest in this jigsaw puzzle is located outside of Kyoto, Japan.  The grove is located around many beautiful small temples.  There are several trails within the forest that lead you to the Tenryuji Temple and both are a major attraction to Kyoto.
There is nothing more magical than a bamboo forest.  This is an ecosystem that can be very diverse and can be just as diverse of a resource.  Bamboo is a material that can be used for several different purposes.  It grows very quickly and is extremely strong making it a great substitute for wood.  It is also a valuable food source for certain animals.

Jigsaw puzzle subject image credit: Special thanks to Agustin Rafael Reyes for making the photograph used for this jigsaw puzzle available through the Creative Commons Attribution license. Visit Agustin Rafael Reyes's Flickr photostream.

See all jigsaw puzzles based on Agustin Rafael Reyes's photographs.
Category: Scenic