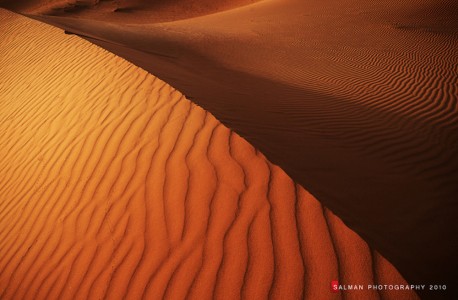 The Arabian Desert seems to many a vast wasteland hostile to plant and animal life. Vast, yes, covering nearly one million square miles of the Arabian Peninsula. Devoid of life? Hardly! In addition to thousands of Bedouins who make their home there, and animals such as lizards and gazelles, there is one animal that is instantly familiar. The sand cat could easily pass as a small domestic tabby, only with golden tan and dark brown markings instead of gray.  Perfectly camouflaged for life in the dunes, the sand cat listens for scurrying beneath the sand, then quickly digs and seizes its prey.
The Arabian Desert dune scene in this jigsaw puzzle looks particularly devoid of life. And yet, if you very closely you can see the tracks of small creatures etched across the sand.

Jigsaw puzzle subject image credit: Special thanks to Salman Al-Salman for making the photograph used for this jigsaw puzzle available through the Creative Commons Attribution license. Visit Salman Al-Salman's Flickr photostream.

See all jigsaw puzzles based on Salman Al-Salman's photographs.
Category: Other Nature