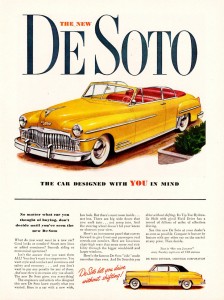 The 1949 De Soto Custom Convertible, as shown in this jigsaw puzzle, was the second series model in this car made by Chrysler. The first was designed in 1946, but the model remained unchanged over the years. When it came out, it was advertised as the car designed with the driver in mind. It had shorter front overhangs than other cars of that era as well as updated grille styles and taillights that had more narrow features. This car sold well and was in the top 20 for American brands. When these cars are restored today, they are often painted lime green on the outside with tan interior seat materials.

Jigsaw puzzle subject image credit: Special thanks to Alden Jewell for making the photograph used for this jigsaw puzzle available through the Creative Commons Attribution license. Visit Alden Jewell's Flickr photostream.

See all jigsaw puzzles based on Alden Jewell's photographs.
Category: Ads, Cars